Published by Alyssa on Feb 24th 2023
Puffco seems to find themselves endlessly revolutionizing and creating quick hits (pun intended) in the wholesale vaporizer market. Beginning with their very first legendary creation, the Peak, and continuing through to the modest Plus and stacked Peak Pro to the Proxy, Puffco has always engineered methods to improve the technology and functionality of their vaporizers while also maintaining the integrity of their sensible, ergonomic designs. With the Proxy, Puffco changed the game by manufacturing a gadget that leaves little to be desired functionally, given the electronic tracers in the atomizer and simple button placement, and instead focused on how smoking fits into their users' lifestyles. Modernizing a wax vaporizer to be modular pushes the industry forward and offers a level of flexibility unrivaled by most other competitors.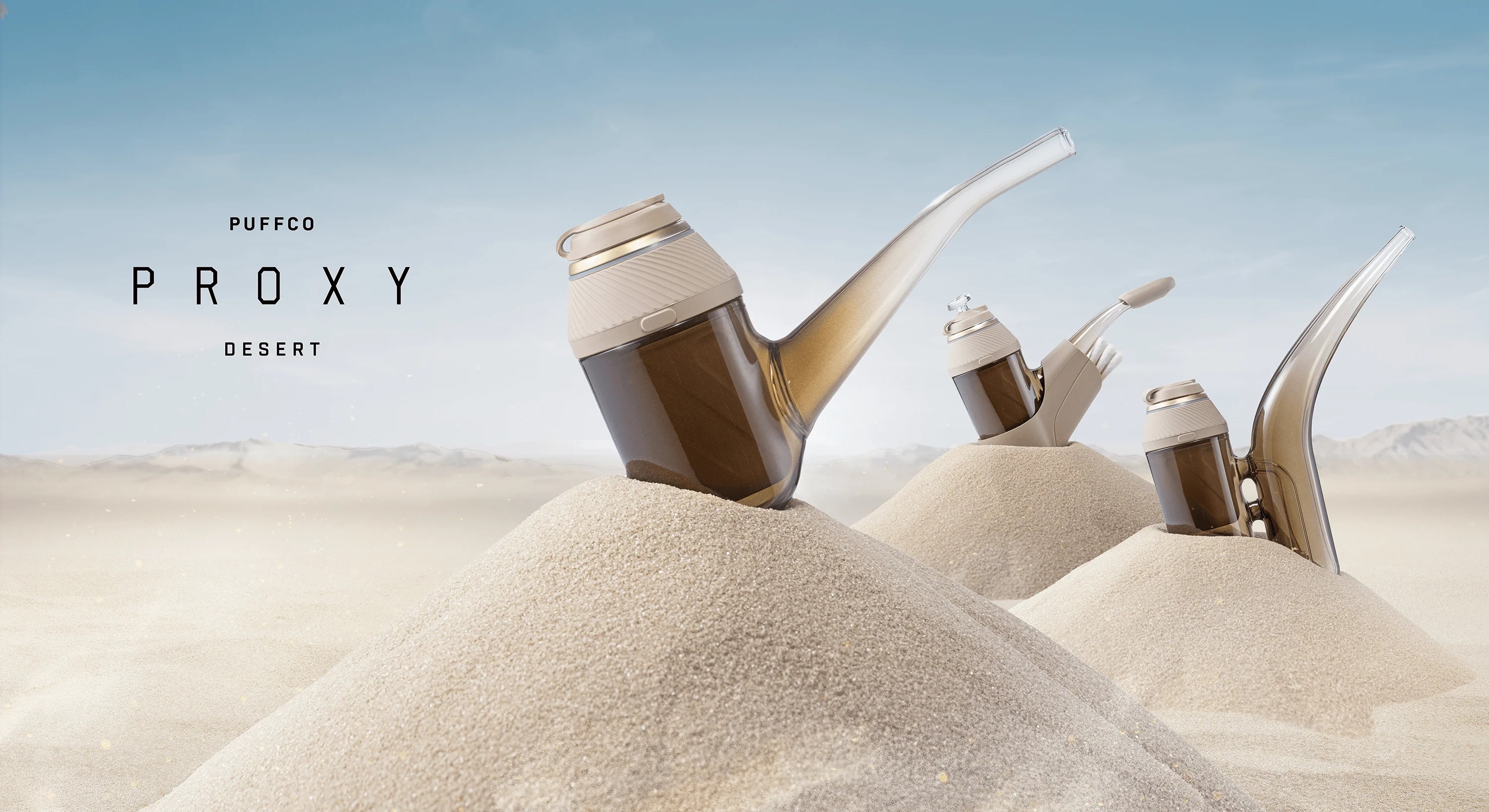 So what did Puffco produce with their undying innovation this time? A feminine remodel of the sleek Proxy sherlock: The Desert Proxy. The desert coloration offers a softness that an all-black and otherwise masculine piece couldn't and gives a mellower and less formal look to the same classy pipe. The Desert pairs an amber colored glass base with a beige insert, adding to the natural feel, and includes a champagne rose gold accented atomizer to complete the Earth toned look. While the original black color may have a better shot at concealing dirt and coordinating with other smoking accessories, the Desert presents an opportunity for mixing and matching to truly make one's smoking experience their own.


The Proxy Desert, specifically, was driven by the belief that vaporizers should be approachable for any user and should be easy and simple to use. It may be intimidating to smoke from a vaporizer for the first time, and while Puffco doesn't offer a particularly low introductory price-point at an MSRP of $299.99 for the Proxy (in comparison to the original Peak being listed for an MSRP of $249.99 for example), it does offer versatility that newer smokers may need to discover the style of smoking they prefer. A key piece of that puzzle that the Proxy provides is mobility, which should not go unnoticed as lugging a full electronic rig wherever you may go, as anyone could tell you, is a hassle. Compared to other wax and concentrate devices, it's not nearly as cumbersome, in weight or in the amount of space it takes up, with or without the included case. The insert that makes it modular and that fits into other smoking pieces can fit in your pocket, making it ideal for travel. Additionally, the reduced number of settings and less emphasis on exact temperatures makes it less complicated for the beginning user. Marry these two factors and the Proxy has paramount accessibility, even more so with the Desert coloring.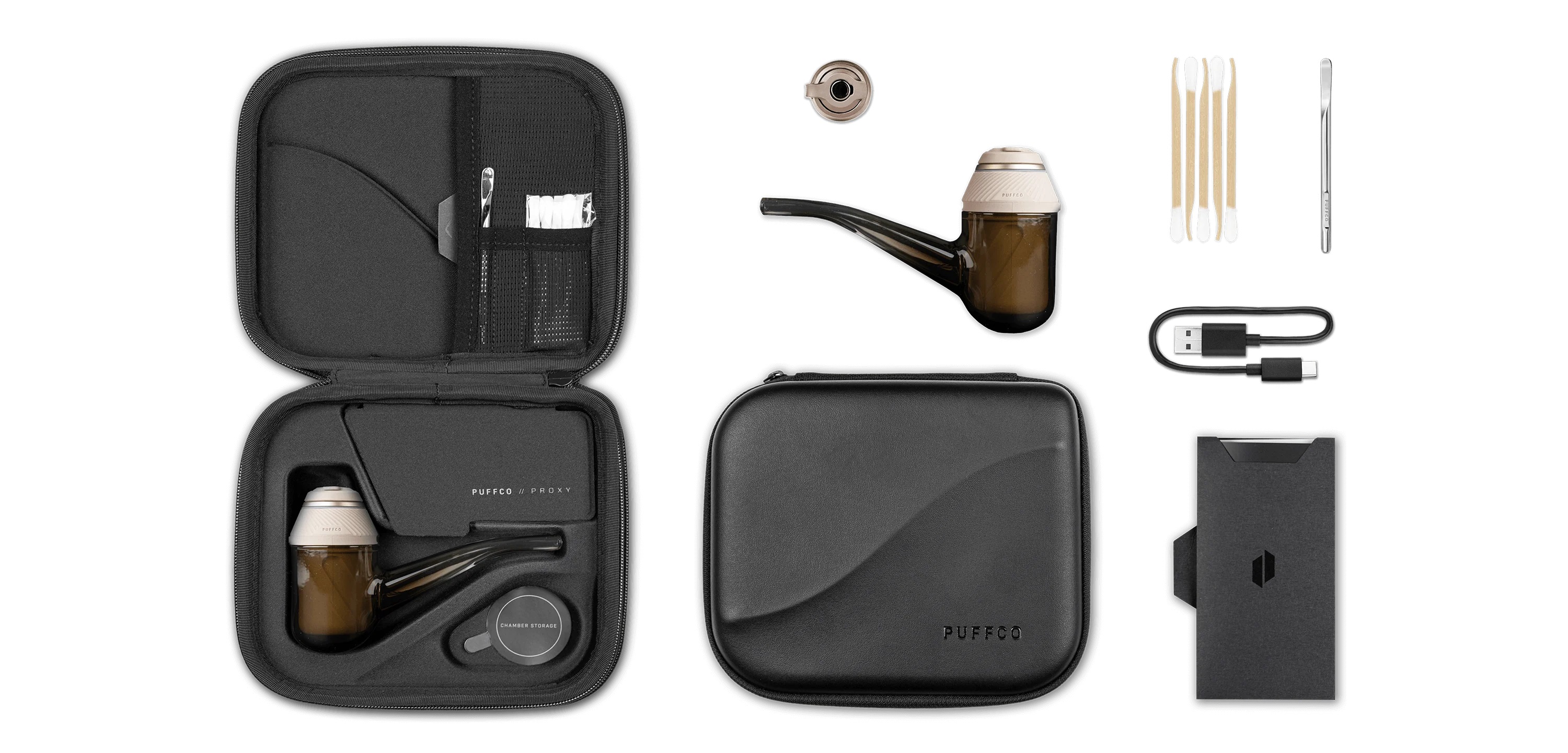 While Puffco's possibilities are limitless and may expand to a Puffco Proxy Pro or a dabbing device that can be inserted into a rig or perhaps an electronic dugout, we are limited by the here and now (which, granted, is pretty sweet with all they've given us to savor). So, explore and experience the entirety of the Puffco ecosystem here.
All devices are for legal use only.