Published by Alyssa on Mar 24th 2023
It's that time of year again when temperatures are on the rise and so is the need for a cool hit from a quality wholesale silicone pipe or water pipe. That's where Eyce comes in. While we covered Eyce's original product line in a previous blog post a couple years ago, they've been hard at work developing innovative new smoking pipes that allow them to remain the leader of the silicone pipe industry. Well, innovative products and the many patents and trademarks they hold both domestically and internationally.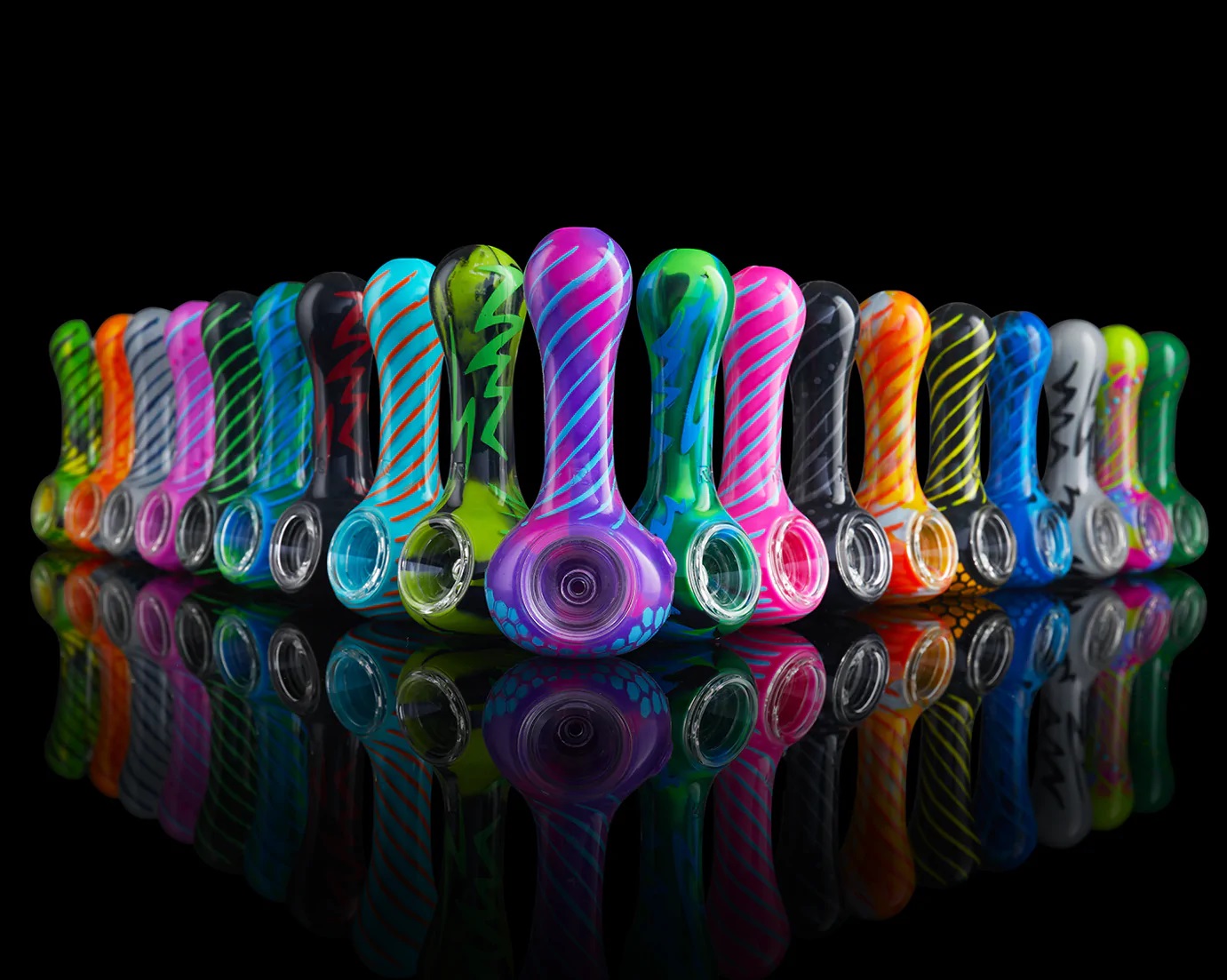 So what exactly did this expansion include? Firstly, they created what they call the "Oraflex" Collection: the "beginning of a revolution". These wholesale silicone pipes have the desirable appearance of glass, with the bright colors, functionality, and durability of medical-grade silicone. The ORA in Oraflex is derived from their proprietary "Overmolded Rubber Art" and features not one, but two layers of platinum-cured silicone. The outer layer is their secret sauce – it's clear and gives the glossy finish of glass without the fragility of glass and the inner base layer highlights the vibrant colors typically showcased in silicone. Currently, Eyce offers four different colorways for this non-ground-breaking design: Honeycomb, Floral, Spiral, and Switchback and two different styles: the Spoon and the Shorty. The artisanal aesthetic and ergonomic ease featured in both options make them prime options for smokers on the go.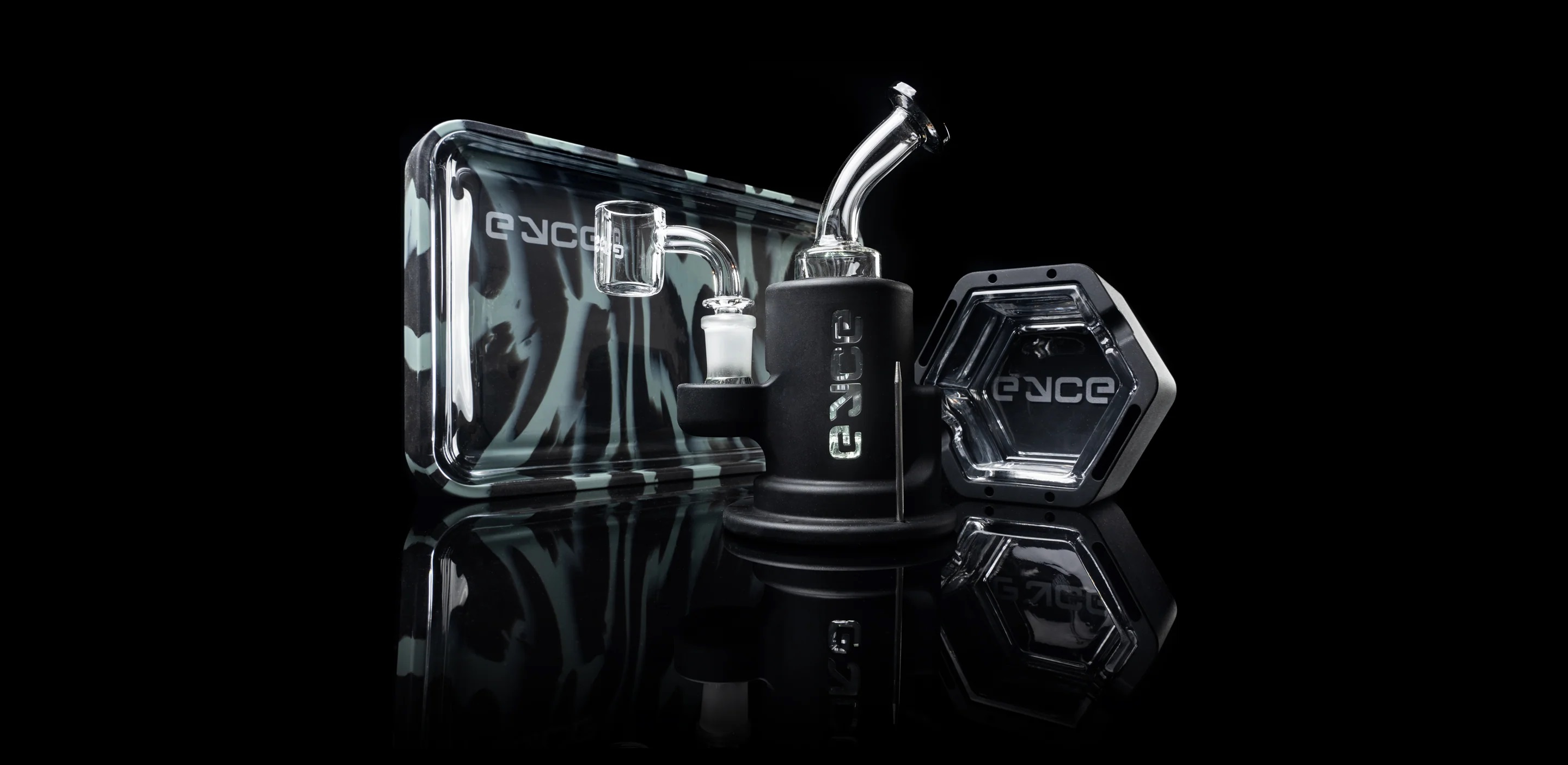 Now, every smoker wants to feel at home in their own skin, but what if their pipes could too? That's the question that Eyce's ProTeck series answers with flying colors: it includes the Spark Rig, the Alien Spoon, an Ashtray, a Rolling tray, and a (Steam) Roller. Each of these pieces is actually glass but they are encased in a colorful platinum-cured exoskeleton, protecting the glass with a layer of stylish durability. Maybe users find that silicone just hits different and prefer glass – this would be just the line for them. The premier product of the ProTeck line is the Spark, which is a borosilicate glass rig with not just the sleeve, but an LED light available in a variety of different colors. Another way to light up, both figuratively and literally, is with the Roller, whose LED lights activate when in use. The ash tray and rolling tray are also both, you guessed it, protected by silicone, and in both cases, the silicone exterior can be removed to function as a second tray. Pretty clever, eh?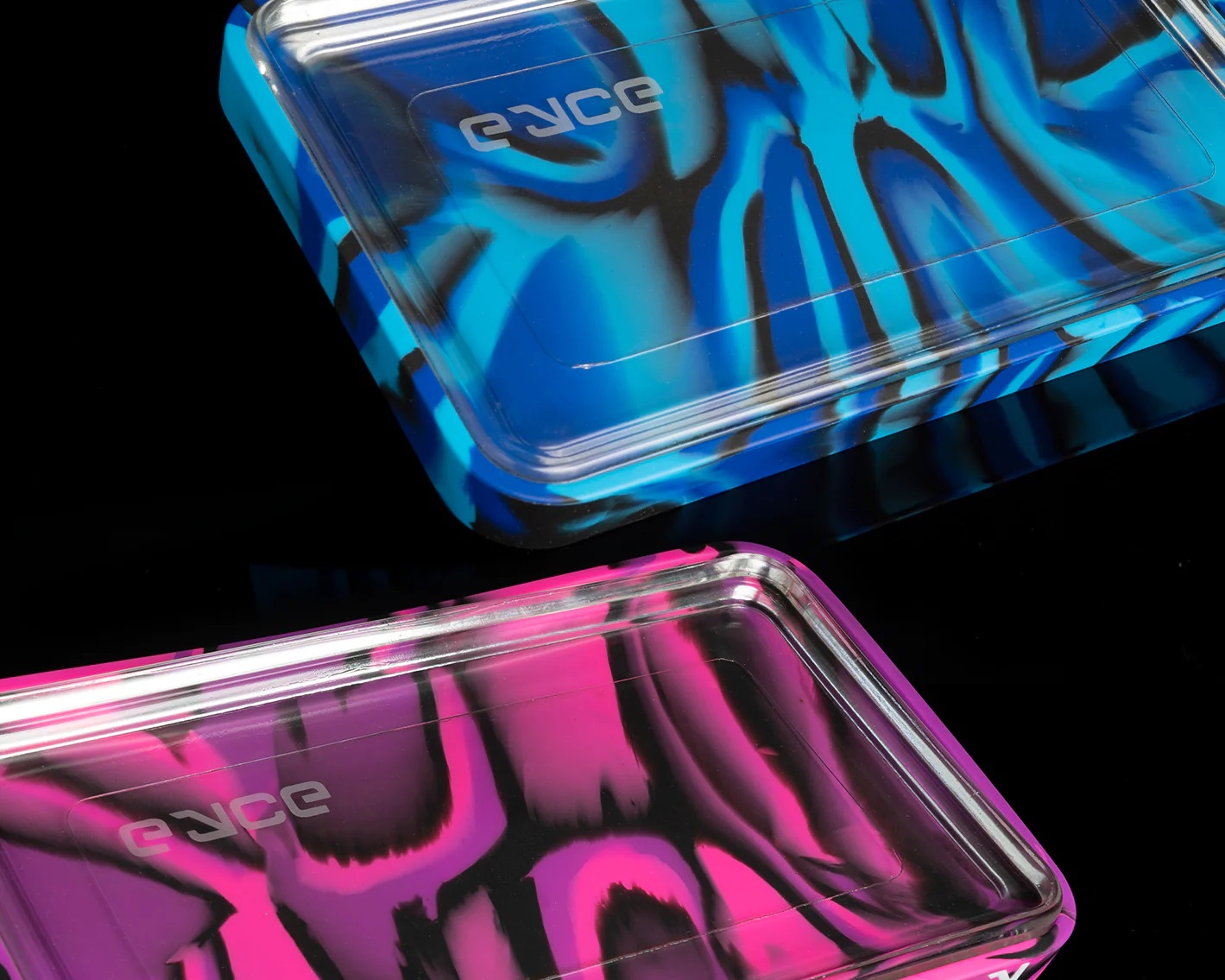 If your customers aren't really into hand pipes in bulk or glassy-looking, platinum-cured silicone isn't their jam, then Eyce supplies all the silly silicone water pipes for an abundantly steezy experience. Beginning originally with dry herb products such as the Beaker, Mini Beaker, Hammer, and a wax creation: the Rig II, Eyce upped their game with the Solo, a silicone dugout, and the Sidecar, a flexible rig that allows for a personalized smoking experience. To start, the Solo doesn't reveal all its' secrets all at once. While it may look like an unassuming square piece of rubber, a closer look will expose a storage compartment, a borosilicate glass one hitter, a steel poker, and a tool holder. Following suit with most silicone smoking paraphernalia, it's simple to use, it's simple to clean, and above all: it's groovy to look at and is available in about ten different colors!
The Sidecar, on the other hand, is primarily designed for concentrates as it includes a 14.5mm quartz banger, but can be easily converted to a dry herb rig. Adding to its' already flexible silicone body and application, the Sidecar features a rotating neck so that the user can adjust the mouthpiece angle to best fit their smoking needs. This little silicone wonder also includes a carb cap and a built-in concentrate container, so it's time on the sidelines of your customer's smoking arsenal will be limited. The final new Eyce creation thus far is the silicone Puffco Peak & Peak Pro attachment – a durable and less stressful alternative to Puffco's Travel Glass.
In conclusion, Eyce continues to display ingenuity while staying true to their mission to perfect silicone and manufacture products that will last the user a lifetime. To find your customers' next lifetime piece, shop our selection of wholesale Eyce products here.

All products are for legal use only.